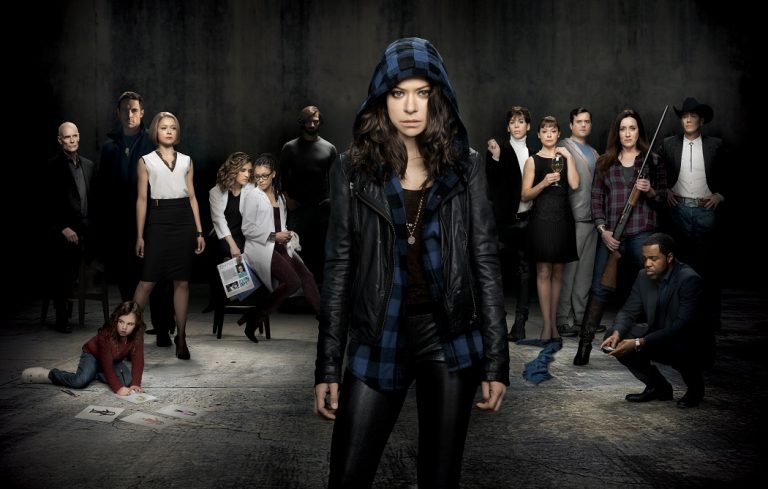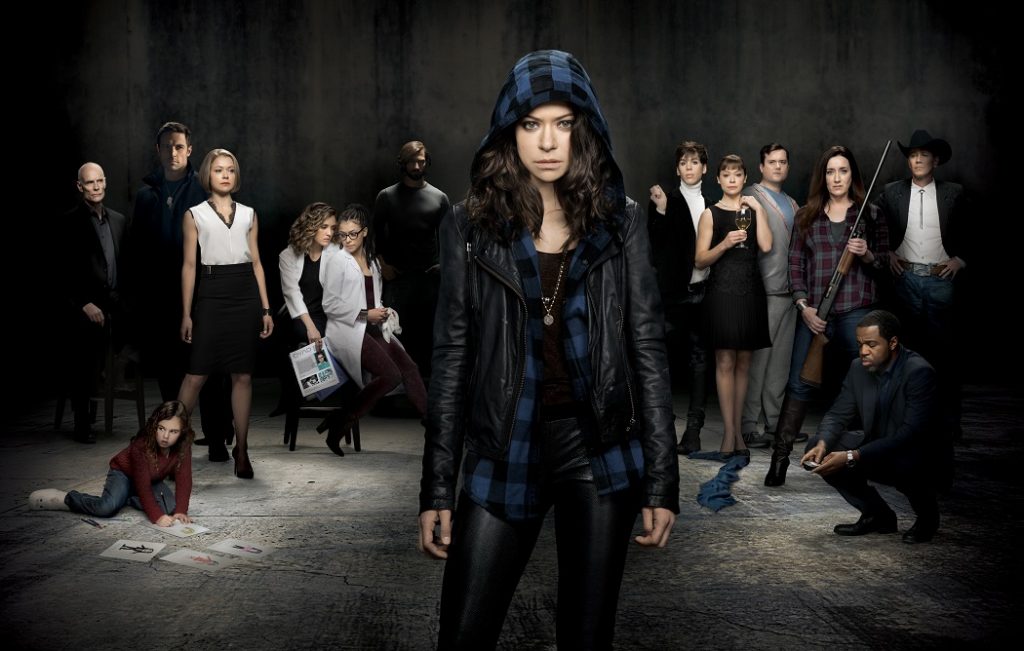 MAIN CHARACTERS
Tatiana Maslany as Sarah Manning, and a number of clones (see below), all born in 1984 to various women by in vitro fertilization.
Dylan Bruce as Paul Dierden, an ex-military mercenary, who is Beth's monitor and boyfriend.
Jordan Gavaris as Felix ("Fe") Dawkins, Sarah's foster brother and confidant. He identifies as a modern artist and moonlights as a prostitute. He is the first person Sarah confides in about the existence of clones.
Kevin Hanchard as Detective Arthur "Art" Bell, Beth's police partner.
Michael Mando as Victor "Vic" Schmidt, Sarah's abusive, drug-dealing ex-boyfriend.
Maria Doyle Kennedy as Siobhan Sadler, Sarah and Felix's Irish foster mother. They call her "Mrs. S." She acts as guardian to Sarah's daughter Kira while Sarah is away.
Évelyne Brochu as Dr. Delphine Cormier, Cosima's monitor, girlfriend, and fellow scientist.
Ari Millen as Mark Rollins, a homicidal Prolethean, Ira, Susan Duncan's adopted son and a number of other male clones.
Kristian Bruun as Donnie Hendrix, Alison's husband.
Josh Vokey as Scott Smith, a fellow student of Cosima at the University of Minnesota, who later joins her and Delphine at the Dyad Institute.
RECURRING CHARACTERS
Skyler Wexler as Kira Manning, Sarah and Cal's biological, naturally-conceived, daughter. The only child of a clone, she has inherited the apparent accelerated healing ability demonstrated by Sarah and Helena, and has shown the ability to tell the clones apart even when they are posing as each other.
Inga Cadranel as Detective Angela "Angie" Deangelis, Art's new partner, trying to uncover the clone conspiracy behind Art's back.
Matt Frewer as Dr. Aldous Leekie, frontman of the Institute and the face of the Neolution movement.
Matthew Bennett as Daniel Rosen, a Dyad associated lawyer, assigned to do Rachel's shady work. He had a sexual relationship with Rachel and also acted as her monitor with her knowledge.
Daniel Kash as Tomas, responsible for the kidnapping, training and subsequent psychological and physical abuse of Helena.
Michiel Huisman as Cal Morrison, one of Sarah's past con-victims and Kira's father.
Michelle Forbes as Marion Bowles, a high-ranking official within Topside–a group controlling Dyad–who outranks both Leekie and Rachel. She contacts Cal and Mrs. S to free Sarah and Kira from Dyad. It is revealed that she is raising the youngest Leda clone, Charlotte, and is battling the military and their male clones of Project Castor, holding one of the male clones in her home. As Charlotte is shown to be in the care of Dr. Susan Duncan (Rachel's adoptive mother and one of the lead scientists of Project Leda), Marion was presumed dead.
Cynthia Galant as Charlotte Bowles, the youngest of the Leda clones.
Natalie Lisinska as Aynsley Norris, Alison's neighbor who is also suspected of being her monitor.
Peter Outerbridge as Henrik "Hank" Johanssen, a Prolethean leader, attempting to revalue their view on science and forcibly proliferate Helena's miraculous genes at the expense of everyone closest to him.
Zoé de Grand'Maison as Grace "Gracie" Johanssen, Henrik and Bonnie's teenage daughter, who eventually rebels against the Prolethean way of life. She marries Mark in an official ceremony after running away from the Prolethean farm.
Andrew Gillies as Ethan Duncan, the adoptive father of Rachel Duncan and one of the original geneticists of the cloning experiment. He expresses disappointment in how Rachel turned out after he faked his death and left her to be raised by Aldous Leekie.
Amanda Brugel as Marci Coates, a woman against whom Alison is running in Bailey Downes's school trustee election.
Kyra Harper as Dr. Virginia Coady, a military doctor who is investigating the Castor sickness and illegally sterilizing ordinary women in order to gather data.
James Frain as Ferdinand Chevalier, a cleaner for Topside who sides with Sarah against Neolution in season 4, becoming her major Dyad ally. He was, in the comic book series, apparently in a sexual relationship with Rachel Duncan and spearheaded the Helsinki extermination. Later, in season 4, he meets Veera Suominen, a survivor of Helsinki who resents him for his murder of her closest friend, Niki. Veera leads him into a trap in an attempt to kill him but instead takes 3.7 million from his bank account and flees, leaving him strapped to a bomb after Sarah urges her not to kill him, as he is seen to be a powerful ally for the clones. Mrs. S diffuses the bomb, and Sarah sets him free, only for him to take Mrs. S and her daughter Kira hostage at Rachel's behest
Ksenia Solo as Shay Davydov, a holistic healer whom Cosima meets through a dating app called Sapphire. Delphine begins spying on the relationship, taking photographs and video footage of the two individuals during their dates.
Justin Chatwin as Jason Kellerman, Alison's ex-boyfriend from high school and now hers and Donnie's new boss and supplier in the drug trade.
Alison Steadman as Kendall Malone, the original genetic subject that both the Leda and Castor factions were cloned from, due to her being a chimera, an individual with both male and female DNA. She is revealed to be Mrs. S's biological mother and the one who murdered Mrs. S's husband John decades earlier. She is tracked down by the Leda clones through Ethan Duncan's encoded edition of The Island of Doctor Moreau, translated by Rachel. Despite Cosima's attempts at creating a gene therapy for the Leda disease with her blood, Kendall was shot and incinerated by Detective Duko on the orders of Evie Cho.
Rosemary Dunsmore as Susan Duncan, Rachel's adoptive mother, and one of the original geneticists of the Leda and Castor cloning experiments, having faked her death the same way her partner Ethan Duncan had, and, like him, is disappointed the way Rachel has turned out, despite her abandonment of her daughter and the resulting isolation and purely clinical upbringing of Rachel by Aldous Leekie.
Gord Rand as Detective Marty Duko, a detective at Beth's precinct who represents the police union in the investigation of her shooting of Maggie Chen; he was one of the contributing factors in Beth's suicide and is also associated with Neolution.
Jessalyn Wanlim as Evie Cho, a woman who works under Dr. Leekie at the Dyad Institute, specializing in Neolution. She is the CEO of the BrightBorn corporation, a Neolution-driven fertility company with dubious intentions.